Can the pattern on your dress project itself onto the world around you at the touch of a button? Ours can.
We regularly conduct our own in-house tests of the very latest tech innovations to give our clients first-hand information about how, why and where their brand can play a role in the new digital universe. Today, we're investigating the ways in which Augmented Reality is transforming fashion e-commerce by creating our very own digital collection inspired by a cosmic vision of a future that's probably closer than we think.
Cosmic Jumpsuit
Bored with the clothes you've seen lately? Dress, dress, shoes, shoes… metallic cosmic jumpsuit surrounded by magical transparent bubbles… OK, it's a little out there, but the idea here is not to compete with Dior, it's to demonstrate the potential of Ray Tracing. Ray Tracing is the latest Snap feature which allows developers to achieve new levels of realism when it comes to reflection.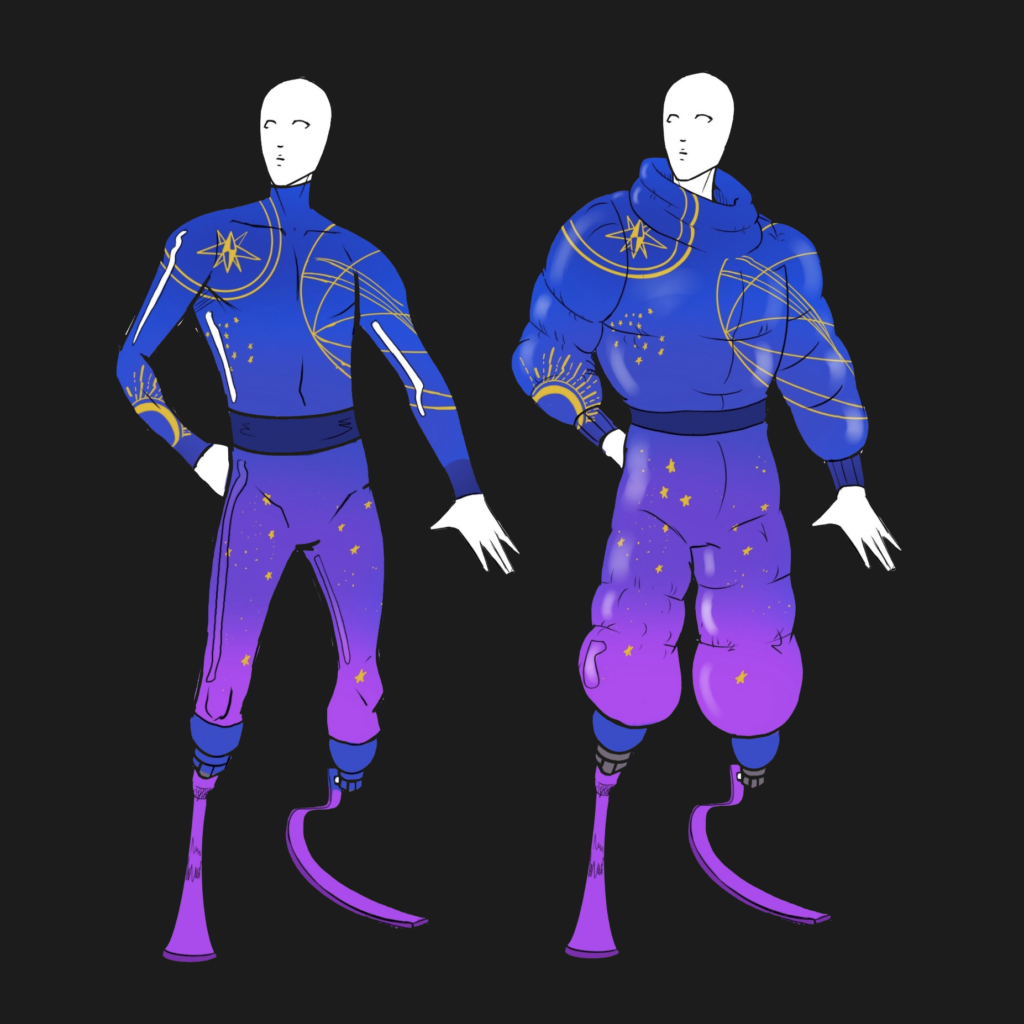 So, building on some of our earlier tests, the metallic material and transparent bubbles of our jumpsuit are in fact designed to explore the distinct ways in which light can be reflected and shaped by different objects. A process that started with some very elegant sketches and ended with a crack team of 3D animators.
But we also wanted the experience itself to be out of this world. Which is why we decided a picture alone wouldn't do our creation justice. Instead, we crafted our very own non-binary digital model to show off the jumpsuit in motion!
Right but… why is it inflating?
Firstly, to make things harder! You see, it's one thing to work in a detailed reflection onto a piece of static material. But by using a custom Shader and some pretty slick vertex animation, we were able to inflate and deflate the sleeves of our jumpsuit, which in turn created a whole new set of curves and edges where we were able to stretch Ray Tracing's reflectivity settings to the limit. As you can see, even in these more complex situations, the level of realism is still impressive!
Secondly, as digital avatars grow in popularity, we wanted to explore this future design space where one day major fashion houses might be designing online-only collections for the virtual worlds we inhabit.
Shooting Star Dress
Our shooting star dress was also produced by a combination of Ray Tracing and vector animation, but this time we wanted to see whether we could use AR to make a piece of clothing that had several points of interaction.
The challenge here was finding a way of allowing the shader to see the dress as distinct components, rather than a whole. But after some experimentation, we found that by assigning information to certain sections of the dress, we were able to trigger different outcomes. Using this technique, we were able to create three separate effects:
Separating the belt from the dress
Transforming the dress into a skirt
Expanding the dress into a magic orb
We even managed to make the user experience interactive too – linking each of these events to a simple screen tap so that rather than simply watching a pre-recorded sequence, it was the user who got to decide when to make the dress morph into a different shape.

Try it for yourself by clicking here.
Taking fashion to the next level
Whilst the likelihood of you being able to pick up a morphing dress from the shelves any time soon is low, the techniques we've explored here today are nevertheless hugely valuable to fashion brands operating in a highly competitive space.
Where once department stores would outdo each other in their efforts to make their window displays ever more elaborate, the shop window for today's consumer is a mobile phone screen. So, treating it like nothing more than a static picture display is a huge waste of its potential when, with the kind of technology we've tested here, you suddenly have an opportunity to bring collections to life in an entirely new way.
Now, if you'll excuse us, we've got a load more galactic outerwear that won't design itself…