We created a salsa-dancing AR bunny and placed it in a driveway halfway around the world, all to make a one-year-old smile.
Google Geospatial is about to change the fabric of our reality. The ability to create Augmented Reality experiences that are tied to specific locations using Google Maps, like your local park or even your house, is going to exponentially increase the use of AR. And this, in turn, will have a huge impact on our lives.
But what will that impact look like?
That was the question we asked ourselves when we were given early access to test the Geospatial platform. Sure, it would have been easy to create something gimmicky, but this technology is capable of so much more. After all, if the term 'Augmented Reality' is about adding to our lived experience, shouldn't it allow us to do things we couldn't before?
That's how Nikos' Gift was born.
Guille's Story
To explore Geospatial's potential, Guille, one of our senior art directors, had a simple, beautiful, goal: to overcome the distance that separated his family by creating a digital gift for his new nephew: Nikos.
This was an incredibly personal mission.
While the world was grappling with the pandemic, Guille's family had received two very different pieces of news. Their mother's cancer had returned, and she would soon be blessed with a grandson.
For Guille, this was a life-changing moment. Within days, he had moved from Australia to Colombia, where he would spend the next two years caring for his mother as she battled against the illness.
When the doctors realized there was nothing more that could be done, Guille's two brothers rushed to Colombia from Australia to join him. Unfortunately, they arrived only hours before she passed, and she was never able to meet her grandson: Nikos.
In the months that followed, Guille would remain in Colombia, while his brothers would return to Australia, 16,000km away. The comfort they had found in one another once again tested by a dividing ocean.
But now, there was Nikos. This joyful little bundle of energy whose early days Guille would follow from afar, through messages and pictures, calls and FaceTimes. For Guille, it was a bittersweet experience, since the more he grew to know and love Nikos, the more it pained him that he couldn't be there in person.
He didn't just want to be the cool uncle at the end of a phone. Somehow, he wanted Nikos to know he was there for him.
So, when we got access to the Geospatial platform, we came up with an idea together.
The Idea
We figured that bringing Guille himself to life through AR might be a hard thing for a child to understand, so instead we decided to design a unique AR character inspired by Guille's personality which, using the new location features offered by Google Geospatial, would surprise Nikos right outside his front door.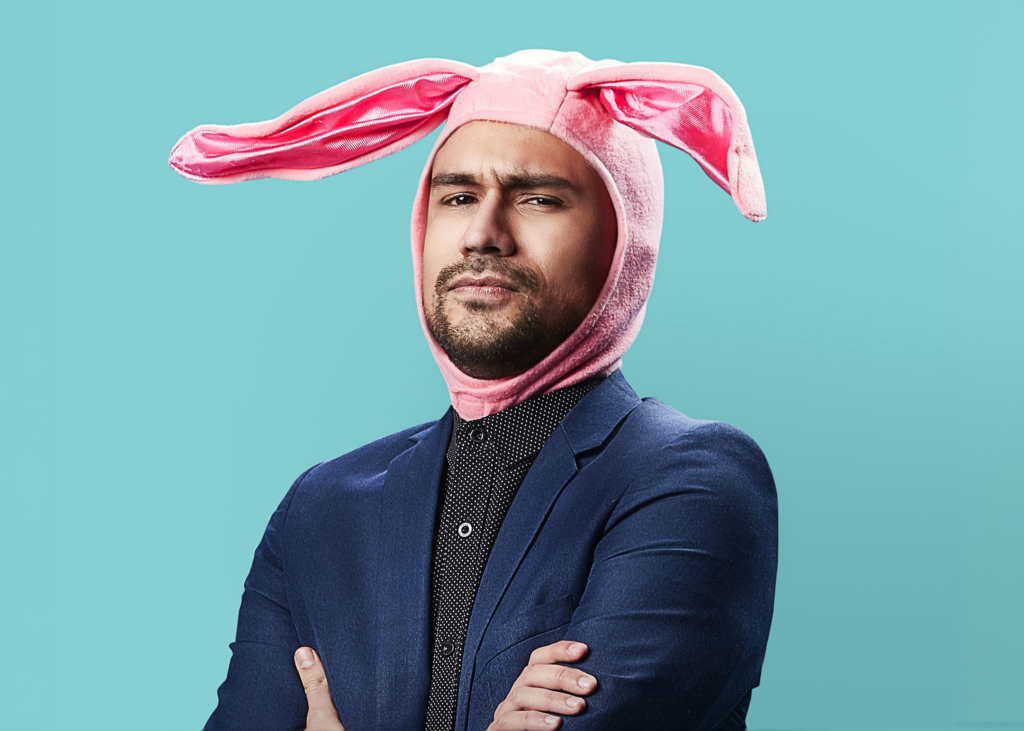 OK, so right now you're probably wondering, which part of Guille's personality says salsa-dancing pink bunny? Well…, there are two parts to this.
As a young agency art director, Guille was given a rather last-minute instruction for his first day of work: wear something pink. Looking around his room, Guille realized that the only pink piece of clothing he owned… was a full-body bunny costume. So, he combined it with a suit and headed into work, and, since that day, the pink bunny look has become a part of his professional and personal image.
The dancing? Well, during their video calls, Nikos was always happiest when Guille started dancing. And since Nikos' parents, Luis and Maria, had met at a salsa-dancing class, we thought this little extra detail would make the whole family smile.
How we made it happen
First, we sketched out our imaginary, anthropomorphic bunny, thinking about creating a creature that a child would instantly love. We wanted to create a character that was relatable, while also honoring the deeper personal connections for everyone involved. We incorporated meaningful details from Guille's life and his story to create a character that felt unique.
Then, we transformed this sketch into a 3D model using Blender and built out the AR experience through Adobe Aero. We baked the animations into the Blender model, and later on, utilized the Aero Behavior Builder to fully integrate the experience.
Finally, with the new magic of Google Geospatial, we dropped our bunny right outside Nikos' front door.
So, when Nikos' father took him outside one morning, it wasn't long before he discovered the gift that Uncle Guille had left for him.
Tech that enhances our humanity
The personal nature of this project was, for us, a really interesting insight into the way Geospatial and other new AR platforms could change our future.
Whereas we are often used to thinking in terms of brands or corporations, the accessibility of something like Geospatial means all of us will soon be able to enjoy personalized, location-based AR experiences. And so, though there is rightly concern about where the ever-quickening advance of technology might lead us, projects like this serve as a reminder that at its best, technology is a way to enhance our humanity, not replace it.